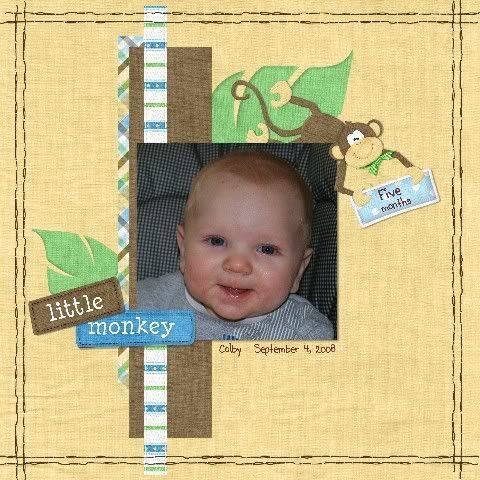 credits: Goin Bananas kit by Mary Fran, scrap lifted: Spoiled Rotten by mrs2a50, stitches: Dani Mogstad, Pea Beth font

My goodness, our little monkey is now a tank! He's getting so big, so fast. He's pushing 19 lbs. He's still a good baby. He has his two bottom teeth in. He's our little sharp tooth dinosaur. Hmmm, which is he, a monkey or a dinosaur. Well, he's actually Sammy's little Mini Me. He loves Sammy so much. He looks so much like him. Colby's hair is a different color than Sam's was though and he has more of it.


If Colby is having a hard time getting to sleep at night, we can count on Lexi to slow dance with him while singing "When the stars go blue". It puts him out. He gets excited to see Lexi. He loves his DeeDee.


Colby started his solid foods this past month. He enjoys sweet potatoes, apple sauce and rice cereal. He's such a sensitive skinned baby. Carrots and Bananas are out for awhile, instant red face and burnt bottom.

He's so happy and we are just as happy is our baby!