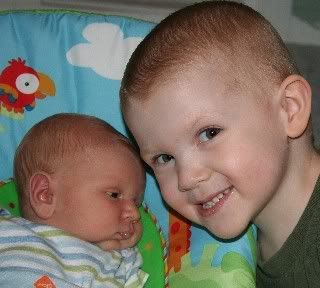 Sam has a tendency to make up words when he's not sure the real name. Although, he will say the words with such confidence that I think he really thinks that's what the word is. For example, at dinner one night, he asked for a refill of "fun poonch". What's "fun poonch" you ask? Why it's "fruit punch" of course.
I overheard Sammy talking to Colby. He said, "Your name is Colby Dack Wookie". Sammy obviously can't say Jack, but at least it's close!


Yesterday, Quino brought him a prize from the store. He was very excited and announced that Quino bought him some "Gilly Bun". We couldn't help but laugh and ask him a few more times, what Quino bought for him. Still, the answer was "Gilly Bun". So, what's "Gilly Bun"? It's Silly Putty!