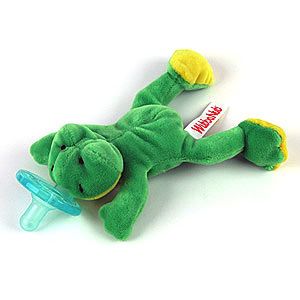 Look what we bought Colby. It's a froggie Wubbanub. What, you've never heard of a Wubbanub before?! It's a small stuffed animal that has a Soothie pacifier attached to it's mouth. The Soothie pacifiers are what they use in the hospitals. We ordered him the frog because it's just too cute. They also have ducks, dogs and horses. Colby seems to like his Wubbanub. It's cute to see him hold on to it. Ok, I know he's not really holding on to it. But, if we place his arm over the top of it to hug it, it sure stays in place longer!
Are you looking to buy a Wubbanub? You can order them directly from the
ChildMed store
where the hospitals get them from.
Here's a picture of Colby, taken a day or two ago, with his Wubbanub.