Look who helped me out this morning.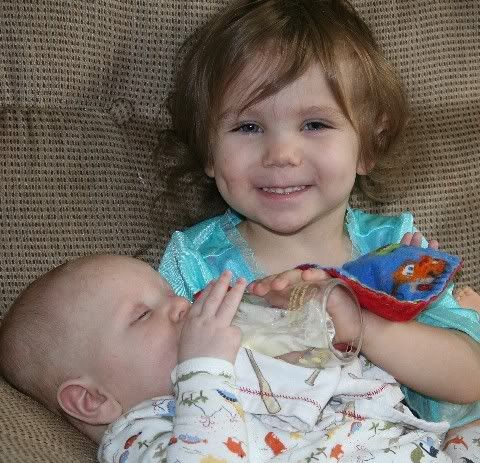 I was feeding Colby . . . for the third or fourth time this morning . . . For Sammy, duty or should that say "doody" calls whenever I'm too busy to help him in the bathroom. It's bad, I know, the kid should be able to wipe himself by now. He yells out the regular phrase, "I'm done and I went poo". I tell him to just sit and wait til I'm done feeding Colby. He yells back, "You want my butt to burn"? So I tell him to try to wipe himself. To which he replied, "I can't see my butt"!
I asked Chloe if she would hold and feed Colby for a minute. There was no putting up a fight there, she was very happy to do that. So she held and fed him while I raced to the bathroom to take care of the other brother. I snapped a picture and then she was ready to hand him back.